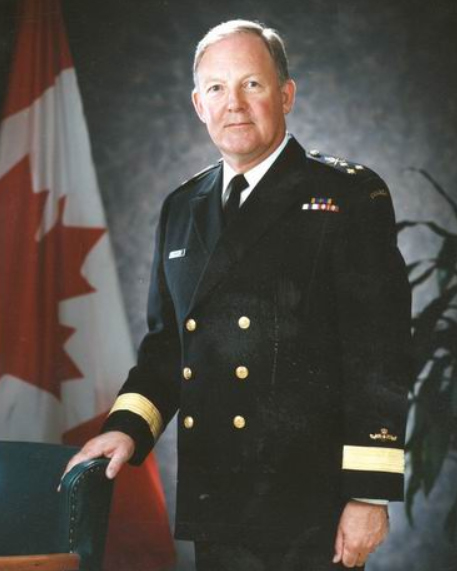 Peter Cairns Leadership Award
We are pleased to present the Vice admiral (ret'd) Peter Cairns Leadership Award
Generously sponsored by Heddle Marine
Call for submissions
The Vice-Admiral (Ret'd) Peter Cairns Award is created to recognize and honour a Canadian innovator and trailblazer in the shipbuilding industry who has made an inspiring contribution to Canada, the Canadian Marine sector and the Canadian shipbuilding industry.

Vice-Admiral(Ret'd) Cairns joined the Royal Canadian Navy in 1956 and assumed his first Command of HMC Submarine Onondaga in 1972, and later, became Commander of the First Canadian Submarine Squadron in 1974. He subsequently commanded HMC Ships Fraser, Margaree and Assiniboine. His last appointments were as Commander Maritime Forces Pacific in 1989 and as Commander Maritime Command in 1992 before he retired in 1994.

In 1998 after a brief period with SPAR AEROSPACE, Vice-Admiral (Ret'd) Cairns went onto lead the Shipbuilding Association of Canada as its President for 20 years. During his tenure Vice-Admiral (Ret'd) Cairns was dedicated and persistent in his advocacy to the government of Canada for a national policy on federal shipbuilding. Under his leadership and articulation of Canada's need for a modern navy and a sustainable industry, the National Shipbuilding Procurement Strategy was born. Later re-named the National Shipbuilding Strategy (NSS) it went onto be the policy framework for the award of combat and non-combat ships worth over $100B.

Under his tenure as the President of the Shipbuilding Industry Association for 20+ years, Vice-Admiral (Ret'd) Cairns was instrumental in the development and enablement of the most substantial marine industrial policy development in Canada since WWII.

In the years to come, as a result of his dedicated and persistent leadership, the Canadian government will make its single largest investment since Confederation of over $100B into the fleet renewal of Royal Canadian Navy (RCN) and Canadian Coast Guard.

This recapitalization of Canada's federal fleets, will not only replace Canada's ageing combat fleet, and create a new level of ice-breaking and rescue capability for Canada it will establish a vibrant and modern shipbuilding industry, in Canada, for future generations.

Vice-Admiral (Ret'd)Cairns stewardship and persistence in his associations and participation in the development and championship of the National Shipbuilding Strategy will ultimately provide stability for the marine sector, the RCN, the Coast Guard, and the maritime community in Canada.
Who is eligible for this award?
This award is open to a broad range of influencers and stakeholders in Canada's marine sector. Candidate eligibility is open to;
Military officials
Government members
Industry members
Academia
Retired influencers
Due Date February 23rd, 2023
All submissions should be completed and submitted to Maritime Affairs Navy League of Canada (maritimeaffairs@navyleague.ca) no later than February 23rd, 2023. Attention to Committee Chair Mme Louise Mercier.
2022/2023 Selection Criteria
To celebrate Vice-Admiral (Ret'd) Peter Cairns, as a leader, and as an innovator, this award pays tribute to his leadership to the marine sector and resilience in the face of political, bureaucratic and competitive challenges that persisted in the effort of creating harmony for the sake of a long-term industrial strategy. These were leadership principles he exercised in his 20-year effort to secure a long-term strategy for Canada.
A candidate for the Vice-Admiral (Ret'd) Peter Cairns Leadership Award demonstrates the following leadership principles in the Canadian marine sector:
Collaboration, Innovation, Loyalty, & Persistence
Innovation and/or thought leadership in the marine sector
Championing the industry
Serves as an inspiration for others
Nomination Submission
Nominations are to contain the following documentation:
Nomination Form
Nomination letter (2 pages max)
Nominee's Curriculum Vitae / biographical summary
Letters of support